Commonwealth Electric of the Midwest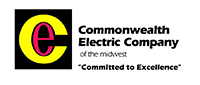 Commonwealth Electric of the Midwest is a full service electrical and communications contractor, with an established position in Arizona, Iowa and Nebraska markets. Our ability to handle challenging and highly technical projects is what we're known for and most of our projects are referral based, as a result. We are constantly striving to achieve the best and exceed the needs and expectations of our customers.

Commonwealth Electric's origins are rooted in the Midwest, and we've been in business for over 75 years. We pride ourselves on our quality workmanship you'll find at each of our project sites.